When you took your child to the dentist, they may have recommended for a stainless steel crown to be placed on a baby tooth. Read on to find out what a stainless steel crown is and why it is used.
What is a stainless steel crown?
A stainless steel crown is a metal cap that is placed over the top of a tooth. It is essentially a silver helmet for the tooth.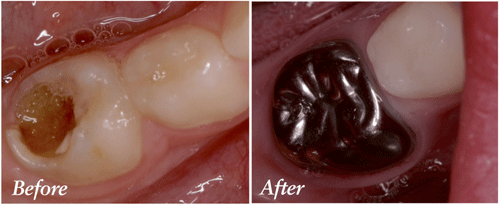 When are stainless steel crowns used?
Stainless steel crowns are usually recommended for severely decayed baby teeth as it is the strongest and longest-lasting restoration that can be provided. The main aim is to prevent the decay from progressing to the point where the tooth becomes infected and/or causes severe pain before the baby tooth falls out naturally.
Why can't a white filling be placed instead?
In most situations, a white filling or a stainless steel crown can be offered as an option for your child. However, in baby teeth with severe decay, the stainless steel crown is almost always the superior option as it is stronger, provides better protection against the decay progressing and less likely to require further treatment.
When your child needs to have a pulpotomy procedure, usually a stainless steel crown is recognised as the gold standard treatment and a white filling is not recommended in this situation.
What are the advantages of stainless steel crowns?
There are many advantages to having a stainless steel crown placed if required
Strongest restoration for baby teeth

Provides complete coverage protection

Can be placed without need anaesthetic or drilling

Prevents decay from progressing, therefore prevents pain and infection

96% success rate to last until the baby tooth falls out naturally

Unlikely to require further treatment until tooth falls out naturally

Does not affect the adult tooth underneath
One of the most significant advantages is that stainless steel crowns can be placed without anaesthetic and drilling in many situations. This can be an excellent solution to manage children who may be anxious in the dental chair.
What are the disadvantages of stainless steel crowns?
The main disadvantage is the silver appearance of the crown. However, remember that it is placed on a baby tooth and will be replaced by an normal adult tooth by the time the child becomes a teenager. In many situations, the child can be excited to receive their "princess tooth" or their "pirate tooth".
A stainless steel crown usually has a slightly higher price than a regular filling initially, however if a filling fails and needs to be replaced, this will easily exceed the cost of a stainless steel crown that lasts until the tooth falls out naturally.
It's just a baby tooth – it will fall out. Why do you need to treat it?
Baby teeth are important placeholders for adult teeth. If a baby tooth becomes severely decayed, it can cause infection and severe pain. The only treatment at this point would be to extract the diseased tooth. If the baby tooth needs to be removed earlier than when it would exfoliate naturally, this can lead to a loss of space for the adult tooth, which can cause problems with crowding and occlusion (the bite) in the future. Hence, ensuring the survival of baby teeth is of utmost importance.
If your child is due to have their teeth checked, please contact us at Peninsula Dental Care Rosebud. We recommend for every child to have a dental check up at least once a year from the age of two years.