DENTAL TIPS FOR BABIES AND KIDS
It is never too early to teach your kids how to maintain good oral hygiene. Habits that are developed in children when they are young tends to stick with them throughout life. Here are some tips to help you look after your child's teeth.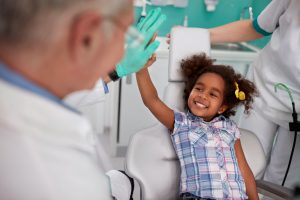 WHEN SHOULD I START BRINGING MY CHILD TO THE DENTIST?
We recommend for a child to have their first dental visit before they are 2 years of age. This allows the dentist to check the growth and development of a child's dentition and ensure there are no problems that have started to develop. This also gives parents an opportunity to ask a dentist questions on how to best look after their child's teeth. Children do not need to be afraid of coming to the dentist. Dentists have lots of tricks to make a dental visit fun – some kids even look forward to their dental visit! However it is important that a child's first dental visit is not an emergency because there are in pain from a dental problem!
WHEN SHOULD I START BRUSHING MY CHILD'S TEETH?
You should start brushing your child's teeth as soon as they erupt. When they first start to appear, you can use a wet cloth or a small toothbrush to clean them twice a day without toothpaste. You can begin to use children's low-fluoride toothpaste from 18 months of age and graduate to adult toothpaste at 6 years old. Children will require assistance brushing their teeth until they are 7-8 years old however it is a good idea to continue supervise them with their teeth cleaning until they are completely independent and do not require reminders.
CAN PUTTING A BABY TO SLEEP WITH A BOTTLE DAMAGE THEIR TEETH?
Yes! When babies fall asleep with a bottle of milk, the milk can bathe their teeth while they are asleep and cause tooth decay. It is important for the bottle to be removed once the baby has finished feeding and do not allow for them to rely on a bottle to fall asleep. Babies under 12 months do not require any other drink besides milk or water in their bottle. Avoid sugary drinks such as juice and soft drink.
IS THERE ANY HARM TO SHARE FOOD WITH MY CHILD?
Research has shown the bacteria that cause decay in children is transmissible, usually passed on from the primary caregiver to the child. Avoid sharing food for at least the first 3 years of the child's life to reduce their chances that the decay-causing bacteria will colonise and therefore reduce the child's risk of decay.
HOW DO I ENCOURAGE MY CHILD TO BRUSH THEIR TEETH?
It can sometimes be a challenge to get your child to brush their teeth. Here are some tips to help encourage your kid to take care of their teeth:
Let your kids choose their toothbrush and toothpaste at the supermarket
Consider getting an electric toothbrush
Have your kids brush their teeth to a song to ensure they are brushing for an adequate time
Make a reward chart and let your child add a sticker every time they brush
Ensure you are cleaning your teeth regular – children learn best by example!
IT'S JUST BABY TEETH – THEY'LL FALL OUT ANYWAY. DOES IT EVEN MATTER?
Absolutely! Baby teeth act as placeholders for adult teeth. If a baby tooth rots away and needs to be removed early, there may not be enough room for the adult tooth to erupt properly. A healthy set of a baby teeth in necessary to allow a child to chew properly and speak clearly. While adult teeth start erupting around 6 years old, some baby teeth will stay with a child until they are 12-13 years old before they change over to adult teeth naturally. Finally, not looking after baby teeth can cause a child to have pain and infection. This can be traumatising for a child and difficult to easily treat in an upset child. This can set up a child for a lifetime fear of the dentist. Hence it is important to start healthy habits early!
If your child is between 2-17 years old, your child may be eligible for gap-free dental treatment under the Child Dental Benefit Schedule covered under Medicare. Contact us to find out if your child eligible today!