HOW DO I GET WHITE TEETH?
Teeth whitening is a cosmetic dental procedure that can be performed to transform stained or discoloured teeth into a whiter brighter smile. It is a popular simple way to refresh the appearance of your smile.
There are two main types of whitening treatment that we can offer: in-chair whitening and take-home whitening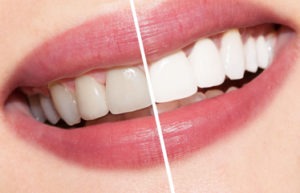 IN-CHAIR WHITENING
At Peninsula Dental Care, we offer Zoom in-chair whitening. It involves a dentist applying a high concentration of whitening formula to your teeth and applying a blue light to help to activate the formula and whiten your teeth. The procedure takes about 90 minutes altogether. The results are instant, so this treatment is best if you're wanting quick results or you have a deadline you want to meet (eg. a wedding). As the formula is very concentrated, in-chair whitening often gives more post-operative sensitivity initially.
TAKE-HOME WHITENING
A take-home whitening kit includes whitening formula that you will put inside whitening trays that are custom-made to fit your mouth. This is done for a few hours every day until you reach the whitening result that you want. The whitening formula is the same one that is used for the in-chair whitening, but at a lower concentration, so there is generally less sensitivity after this treatment. This treatment can be done in the convenience of your own home and you can control how white you want to go before you stop the whitening process. You can also use the kit to maintain your whiteness, such as by doing one top-up treatment every 4 weeks. It can take about 2 weeks of daily whitening to achieve maximum results, so this treatment may not be suitable if you want instant results or if you have difficulty remembering to do something regularly.
HOW WHITE CAN MY TEETH BE AFTER WHITENING?
It depends – results will vary from person to person, much like how dark a person's tan can get will vary from person to person. On average, teeth whitening can lighten a tooth's colour by three to eight shades. Occasionally, some individuals have discoloured teeth that may not respond to teeth whitening, so it is important for a dentist to assess your suitability before you start any whitening procedure.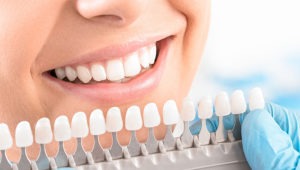 HOW LONG DOES TEETH WHITENING LAST?
Again, it depends. Tooth whitening is not permanent so over time, whitened teeth will return to their original colour. Most people maintain a relatively whiter smile for 1 year before seeking more whitening treatment. Take-home whitening kits allow you to continue to perform one whitening treatment every 4 weeks so you can maintain a whiter smile for longer. Your diet and lifestyle can affect how long the whitening lasts. Smoking, eating and drinking pigmented food (such as coffee, tea and wine) and not brushing and flossing your teeth well can shorten the life of your teeth whitening procedure.
CAN WHITENING YOUR TEETH DAMAGE THEM?
When performed safely by a dentist, tooth whitening procedures do not cause damage to your teeth. The main side effect of any whitening procedure is tooth sensitivity, which is temporary and reversible over time. Occasionally, whitening formula can leak and cause a burn to the gums, so it is important to follow your dentist's instructions on how much whitening formula to use if you are using a take-home kit. Beware of "whitening" products that can be purchased at retail stores or online, as they may contain hard abrasives that can damage your tooth enamel over time.
CAN I WHITEN MY RESTORATIONS?
No, tooth whitening formula does not whiten any fillings, veneers or crowns. It is important for a dentist to assess your teeth in order to ensure they are suitable for whitening. Any restorations that do not satisfactorily match your teeth after they have been whitened may need to be replaced to achieve a better match.
WANT WHITER BRIGHTER TEETH? TALK TO US TODAY!
Give our friendly team at Peninsula Dental Care a call to find out how you can improve the appearance of your smile by tooth whitening!